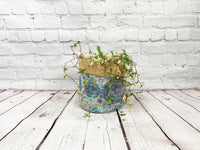 Dress your plants in something pretty!
Made from printed cotton canvas and lined in canvas or hessian, they are the perfect pouches to brighten up (and hide) your plastic pots.
3 sizes available (approximate measurements) :
Small - 13.5cm deep x 14cm high (folded)
Medium - 18cm deep x 22cm high (folded)
Large - 23cm deep x 26cm high (folded)
* We recommend placing a saucer in the bottom of your planter bag and removing the plant completely for watering.
"Beautiful work and product. Hand made and I cannot compare it to any designer because it is better. There is no comparison" - Kerry